What is a Safety Stand-Down?
A Safety Stand-Down is a voluntary event for employers to talk directly to employees about safety. Any workplace can hold a stand-down by taking a break to focus on "Fall Hazards" and reinforcing the importance of "Fall Prevention". Employers of companies not exposed to fall hazards, can also use this opportunity to have a conversation with employees about the other job hazards they face, protective methods, and the company's safety policies and goals. It can also be an opportunity for employees to talk to management about fall and other job hazards they see.
How We Can Contribute
Charlie Morecraft, worldwide keynote safety speaker, burnt over 50 percent of his body, months upon months of hospitalization and rehab, dozens of surgeries, and emotional suffering that outdid the indescribable physical pain. Ultimately, he emerged from that inferno, as damaging to his family as to himself, to become a sought-after safety expert whose clients number more than 25,000 companies worldwide. Charlie's inspiring story has already helped hundreds of thousands to put on their helmets, their safety goggles, and use their common sense before tackling any job or potentially dangerous activity.
Now you have the opportunity to interact with Charlie via Webinar streamed lively to your event, and find out why his safety message is so powerful, profound and impactful, often altering people's attitude towards safety forever! GUARANTEED!
Call us today at (800) 783-0796 for a FREE quote
You can also email us at [email protected] or fill out the Safety Webinar Inquiry Form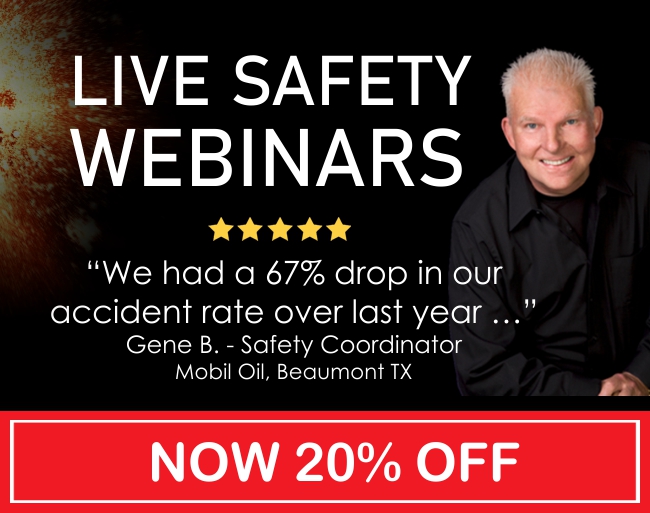 Who Can Participate?
Anyone who wants to prevent hazards in the workplace can participate in the Stand-Down. In past years, participants included commercial construction companies of all sizes, residential construction contractors, sub- and independent contractors, highway construction companies, general industry employers, the U.S. Military, other government participants, unions, employer's trade associations, institutes, employee interest organizations, and safety equipment manufacturers.
How to Conduct a Safety Stand-Down and FAQs
Companies can conduct a Safety Stand-Down by taking a break to have a toolbox talk or another safety activity such as conducting safety equipment inspections, developing rescue plans, or discussing job specific hazards. Managers are encouraged to plan a stand-down that works best for their workplace anytime. See Suggestions to Prepare for a Successful "Stand-Down" and Highlights from the Past Stand-Downs. Charlie Morecraft can help employers and employees participating as a Motivational Safety Speaker at your safety stand-down event.
Submit the event details to our Regional Stand-Down Coordinator at [email protected]
Certificate of Participation
Employers will be able to provide feedback about their Stand-Down and download a Certificate of Participation following the Stand-Down.
Share Your Story With Us
If you want to share information with OSHA on your Safety Stand-Down, Fall Prevention Programs or suggestions on how we can improve future initiatives like this, please send your email to [email protected]. Also share your Stand-Down story on social media, with the hashtag: #remembercharlie
Would you like to explore more options?
Check our Charlie360 Safety Webinar Series
Source: https://www.osha.gov/stop-falls-stand-down